Do you have any questions that we can help you with?
Are you looking for a professional security system solution?
As an authorized partner of AJAX, we offer you comprehensive advice as well as the entire implementation of a professional security solution. Be it just to protect your property, such as. Fire detection, flooding, air quality and also against break-ins. This means you are well supplied with AJAX solutions. Thanks to the ingenious technology of the devices and infrastructure, these security solutions from AJAX are very easy to scale, whether for a 1-room apartment up to entire company premises with various outbuildings.
AJAX offers two solutions:
Jeweler | Wireless & Fibra | Wired
AJAX – innovation that protects
Ajax Systems is a tech company that creates solutions that are at the cutting edge of technology and science. Ajax implements these innovations into your products. Ajax products work even under the most extreme conditions and offer reliable protection in every situation.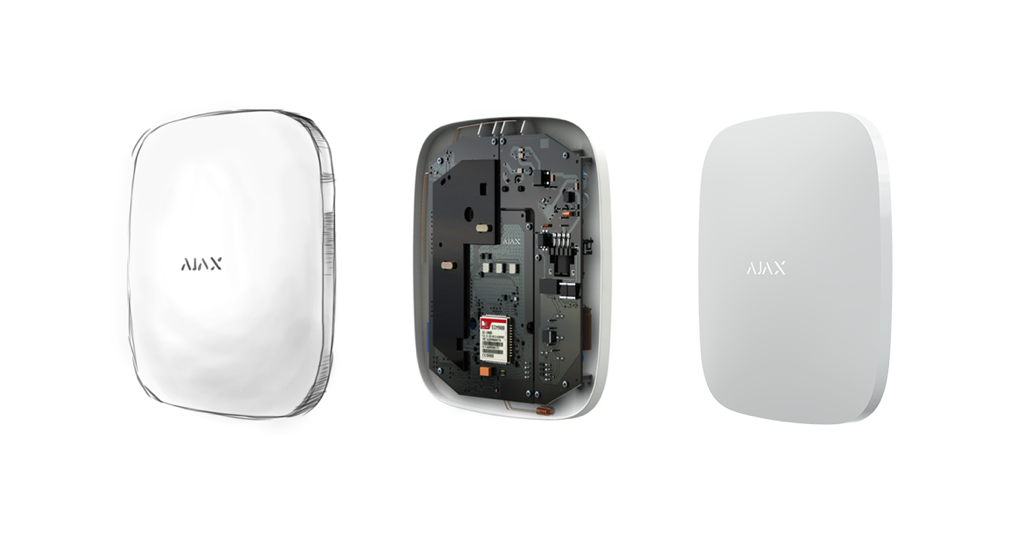 Always connected via Ethernet, Wi-Fi, LTE
Hub 2 Plus perfects communication. It has 4 communication channels and works on high-speed LTE networks. Thanks to this feature, the device can be connected to two different Internet providers and two different mobile networks via Ethernet and WLAN. The automatic channel change only takes a few seconds.
Verify the alarm using photos in just 9 seconds
The future of the security industry lies in photo verification. This technology is optimal for both commercial and residential purposes because it is cost-effective and respects people's privacy. The animated photo series of the MotionCam's motion detectors allows you to check the movement sequences on site. The cameras are only activated in the event of an alarm.
The Hub 2 Plus enables the connection of 200 MotionCams. In just 9 seconds, the security company and users receive photo confirmation of the alarm. Thanks to the support of LTE networks, this is even possible with just one SIM card.
Guaranteed alarm delivery and photo confirmation
Ajax developed the Jeweler radio protocol to ensure that all security devices work together smoothly. It enables two-way communication over a distance of up to 2,000 meters between the hub and the detectors, remote control of the system and alarm delivery in less than 0.15 seconds.
The wireless protocol uses polling intervals to synchronize device communication sessions, authentication to prevent fraud, and encryption to protect against data theft. At the same time, the protocol works very energy-efficiently, so that the detectors run for years with the batteries supplied.
Find out more about the special features and possibilities of the Jeweler
Wings is an innovative radio protocol designed for high-speed transmission of graphical data over long distances. The Hub 2 Plus wireless protocol uses its own antenna to ensure connection reliability. Thanks to integrated algorithms for checking and reloading data packets, Wings transmits photos over a distance of up to 1,700 meters, even in the event of unstable signals and connection interruptions. Security company employees and system users receive photo confirmation of the alarm within 9 seconds.
Automation of security
With Hub 2 Plus you can create 64 scenarios, minimizing the impact of human behavior on security. The hub can arm and disarm an object or group on a schedule. If a break-in occurs in the monitored room, a smoke machine can be activated immediately. In the event of a fire, the property can be disconnected from power and the emergency lighting can be switched on. Water leaks can cause the water supply to be disconnected. When the system status changes, at the push of a button or when a detector goes off, lighting, electric locks, roller shutters and garage doors can be triggered automatically.
Protection of large objects with complex internal structure
Hub 2 Plus ensures the security of the most complex objects, such as business centers, factories or multi-story villas with outbuildings. The new hub can control up to 200 devices. The radio range is up to 2000 meters and up to 35 square kilometers can be covered by the system's radio network. With Hub 2 Plus, you can create up to 200 users and also up to 25 groups to zone a property's security and personalize access for employees.
Do you have any questions that we can help you with?